CMM-54415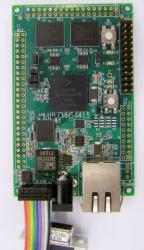 SKU: CMM-54415
The CMM-54415-OEM is a module featuring the MCF54415 microcontroller. This small form factor (2.20"X3.5") board is ideal for industrial OEM embedded application where low cost and small size are important.
Target Applications:
Industrial control • Industrial networking • HVAC systems/applications
Human-machine interface (HMI) • High-end lighting control • Health care devices
Fire and alarm systems/applications • Security panels • CMM-5235 upgrade / replacement
Features:
MCF54415 MCU, 256 MAPBGA Package
32 bit w/ EMAC and MMU support
250Mhz operation
64K Byte single cycle SRAM
DDR, DDR2, Mobile DDR Controller
10/100 Ethernet with IEEE 1588 support
32 bit Data and Address Bus
4x SPI Serial ports
2x I2C Serial Ports
10x UART Serial Ports
5x Interrupt Inputs
4x PIT timers
4x 32 bit Timers w/ DMA
12 bit dual ADC, 8 channels
8 channel PWM Timers
RTC clock with back-up option
BDM / JTAG Port
Internal Oscillator w/ PLL clocking
3.3V / 1.2V operation
Other Board Features:
128MByte DDR2 memory
64M Byte 32 bit Parallel flash memory (Larger flash bulds available on request)
10/100TX Ethernet Port with RJ45 connector
RESET and ABORT (IRQ7) push switches
25MHz Primary and 32Khz RTC Oscillators
COM Port (UART0), IDE pin header w/ DSUB-9
CAN / 485 Port (CAN / UART9), 3 pin .1 inch friction lock
MCU I/O Port, 2 x 25 pins, .1 inch grid **
MCU Bus Port (64K x 8 bit), 2 x 17 pins, .1 inch grid**
BDM / JTAG Port, 26-pin Freescale standard
Regulated +3.3V / 1.8V / 1.2V power supplies w/ indicator
Board support package and Freescale MQX RTOS port
Cables and Wall-Plug power optional
** = not populated, build option
CAN Bus or RS485 interface is a build option.
Specifications:
Power Input: 2.1mm DC plug, +6 to +30VDC, 12VDC @ 120ma typical.
Board Size: 2.2 W x 3.5 L x 0.6 H Inches
Weight: 2 lb
Dimensions: 1 in × 1 in × 1 in